AFlor Commercials specialise in commercial resilient flooring options to suit each client's needs and budgets. We can recommend a wide range of resilient floor solutions, depending on the style of property and individual wants.
When it comes to getting the right flooring laid out for your business or commercial property, we are able to provide Sunshine Coast businesses with a range of options. At AFlor Commercial, we consult with a diverse range of client profiles and keep a variety of considerations in mind when making recommendations to each property owner.
There are numerous reasons why resilient flooring options make it to the top of the list when it comes to commercial properties. Commercial resilient flooring comes in either sheets or tiles that provide your property with a durable surface and luxurious appearance, all while suiting an individual's budget.
AFlor Commercial brings close to 20 years' experience to any job we take on. This means that no matter the layout or surface of your property in which you'd like your resilient flooring installed, you can always consult with us on any specific need.
RESILIENT FLOORING FOR BUSINESSES
What is arguably the biggest advantage offered by resilient flooring products, is cost-effectiveness. Business owners looking for resilient flooring on the Sunshine Coast often enquire about cost-effective alternatives when exploring options. Commercial resilient flooring products are the perfect solution for business owners that are looking for something that is affordable, but still resemble luxury flooring.
Whether in tile or sheet form, resilient flooring products are made with elastic materials. Business owners find the appeal of using resilient flooring products in spaces, such as showrooms and work areas, that experience high foot traffic because of its durability.
Resilient flooring offers a cost-friendly alternative for buyers, while still maintaining the important key functions of more expensive flooring options. If you own a business on the Sunshine Coast and are thinking of redecorating, consider how resilient flooring can add a touch of affordable class to your business.
RESILIENT FLOORING FOR COMMERCIAL PROPERTIES
Despite being known for its ability to mimic a luxurious appearance, commercial property owners on the Sunshine Coast also need flooring for their premises that isn't going to wear and tear easily. Elastic materials are found in resilient flooring products to offer extra durability to protect clients surfaces for longer. When it comes to using an affordable flooring material you can rely on for your commercial property, resilient flooring is a preferable choice.
Plenty of commercial sites and even industrial spaces consider resilient rubber sheets and tiles when it comes to flooring their surfaces. It's easy to picture why, as resilient flooring provides such a suitable option for commercial spaces that see constant foot traffic or frequent movement of equipment. However, we always encourage our clients to speak to one of our experts and to consider the potential uses of their commercial flooring.
With your needs always considered, a consultation with our friendly team of experts at AFlor Commercial is crucial to start your journey towards cost-effective and durable resilient flooring for your property.
If you want to speak to a commercial resilient flooring professional that Sunshine Coast businesses can rely on, contact an Aflor Commercial member today on (07) 5443 694.
OUR COMMERCIAL OR OFFICE
FLOORING SOLUTIONS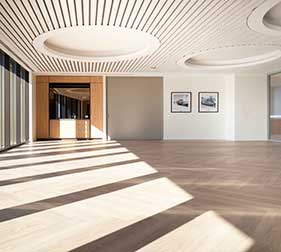 Sheet vinyl, vinyl planks/LVT, sheet rubber, rubber…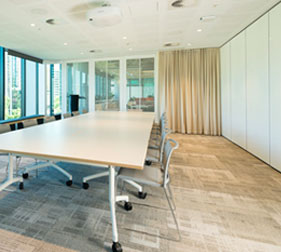 Broadloom carpet for residential units, hotels, Axminster…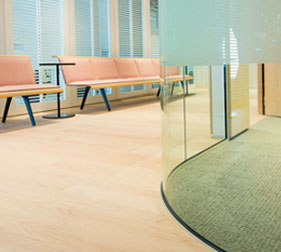 Engineered timber
flooring.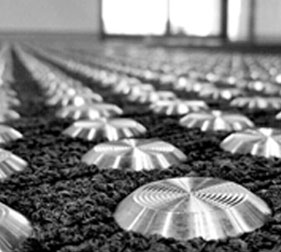 Whether you need to protect walls from impact and wear…
Have An Upcoming Project?