Commercial vinyl flooring has over the years gained massive popularity throughout the world and businesses. However, due to this popularity and the fact that it has been around for so long, some people consider vinyl flooring as "outdated" and "unattractive". This is far from accurate, advancements in technology have given vinyl flooring a modern touch and is often a more affordable option, therefore most commercial settings are now considering it for their business. Vinyl flooring also offers the benefit of being quite sturdy and can mimic the style and patterns of more expensive flooring options, again, making it a popular choice for commercial business owners.
BENEFITS OF VINYL FLOORING
. REQUIRE LITTLE TO NO MAINTENANCE
Since vinyl flooring is resistant to dirt and staining, it requires little to no maintenance. This is also true for vinyl flooring that is installed in high traffic areas that are prone to scratches. Unlike other flooring that may need refinishing to maintain the look, vinyl floor will continue to have a great appearance for years to come. The only maintenance needed is an occasional sweep or mop.
Commercial vinyl flooring that is installed in high traffic areas, such as offices, are prone to scratches. Since vinyl flooring is resistant to this, as well as dirt and staining, it requires little maintenance. Unlike other flooring options that may need refinishing to maintain the look, vinyl floor will continue to have a great appearance for years to come. The only maintenance needed is the occasional sweep or mop.
Vinyl flooring is relatively less expensive than other types of commercial flooring, better yet it can be made to resemble expensive flooring. Therefore, it is a popular choice among property owners who are after quality flooring without spending too much money.
Vinyl is well recognised for its durable nature that enables it to last anywhere from 10 to 20 years. Making it the perfect choice for commercial settings that experience high traffic and are therefore more prone to potential damage. Its durability gives buyers and property owners reassurance that they have reliable flooring in place.
Another benefit for vinyl flooring is that it is easy to install, this factor is important for any property owner who doesn't want to spend a lot of time on the installation process. It is also possible to install commercial vinyl flooring by yourself, although to experience the maximum benefits of vinyl flooring, it is important to ensure that it is installed properly and is well levelled.
WHAT IS VINYL FLOORING USED FOR?
Vinyl flooring has been designed and used for an enormous number of businesses. They include the below.
Vinyl flooring is fast becoming a preferred choice among office spaces, not only because of its modern aesthetic look but also for its range of attractive benefits to property owners, including affordability, durability, resilience and requiring only little maintenance. Vinyl also can outlast most flooring types, bringing a huge benefit for business owners and offices as they commonly experience higher foot traffic. This type of flooring is also available in numerous designs and colours and will, without a doubt, bring a touch of style to any office space.
The hospitality industry is one of the sectors where it is important to have long lasting and reliable flooring. Since high foot traffic is expected almost daily in hospitality venues, there is a need for a durable yet easy and quick to maintain flooring. A hospitality business choosing commercial vinyl flooring will experience the perfect solution for their property, not only because of its aesthetic look but also because of its economical factor, noise absorbency, and slip resistance. Because of these benefits any hospitality venue gains the bonus of being stylish without compromising any functionality.
Most schools prefer vinyl flooring over other types of flooring because of its high performance when it comes to durability against scratches and rips. Vinyl is also a good choice for schools due to its low maintenance and resilience, which are essential characteristics for the education sector. Commercial vinyl flooring for schools also meets the specific requirements necessary for establishing a productive learning space with its noise absorbent ability.
The first impression matters for a retail space, most owners use vinyl flooring to stimulate the environment and for its stylish aesthetics. When decorating a retail space, vinyl is a great choice because of its many designs and colours on offer. Durability, easy to clean nature and functionality are all extra bonuses of choosing vinyl flooring for any retail space.
With a well-maintained vinyl floor, hospitals can be assured of a flooring service that lasts up to 20 years. Vinyl that is PUR coated is especially helpful as it enhances durability, this is especially important for the healthcare industry as it experiences both heavy foot and wheel traffic. Vinyl flooring offers a wide range of colours and designs; therefore, hospitals are able to customize each area and create a relaxing atmosphere for their patients. Vinyl flooring also guarantees noise absorption, hygiene and easy cleaning which is crucial for any healthcare setting and their patients.
Like offices, commercial vinyl floors are becoming the flooring choice for most industry settings. This is because they ensure longevity and durability that is perfect for high-traffic industrial areas. Along with being easy to instal, vinyl also meets the functionality requirements of industries in terms of hygiene, noise absorption, and slip-resilience.
HOW TO CHOOSE THE CORRECT TYPE OF VINYL
With so many types of vinyl flooring in the market, finding the most suitable one for your needs can be daunting. Fortunately, there are factors that can help you make the right buying decisions. The first thing you should consider is the traffic level of the room where you plan to place the flooring. Also, factor in your budget and expectation of the vinyl floor. This includes the ease of installation and maintenance. Check out our comprehensive guide on types of commercial vinyl flooring to discover which suits you and your property needs most
WHERE TO FIND QUALITY VINYL FLOORING ON THE SUNSHINE COAST
AFlor Commercial provides their clients with a large range of top-notch vinyl flooring options to buy. We are reputable, reliable and guarantee to provide the best commercial vinyl flooring from recognized brands to meet various clients wants and needs.
Vinyl flooring is fast keeping pace with other types of flooring because of its numerous benefits. This is no exception to the commercial industry, where it has become a popular choice for most business owners. Vinyl attains the different requirements for most commercial settings due to its durability, resilience, comfort, and easy maintenance.
If you're considering upgrading to commercial vinyl flooring with a business Sunshine Coast property owners can count on and trust, call our team at AFlor Commerical on (07) 5443 694 for a quote today.
OUR COMMERCIAL OR OFFICE
FLOORING SOLUTIONS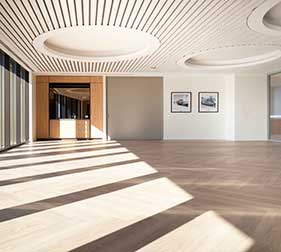 Sheet vinyl, vinyl planks/LVT, sheet rubber, rubber…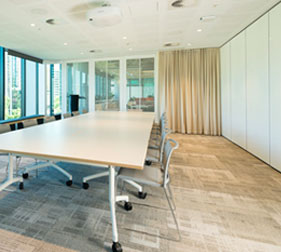 Broadloom carpet for residential units, hotels, Axminster…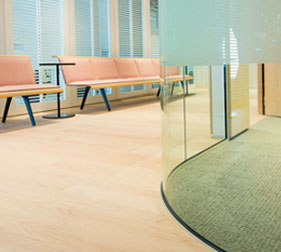 Engineered timber
flooring.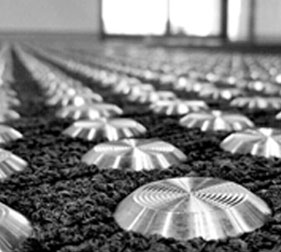 Whether you need to protect walls from impact and wear…
Have An Upcoming Project?